¿Es cierto que pasaste 4 años encarcelado?
Sí, es cierto. En 1992 fui condenado a pasar 13 años en la cárcel por haber cometido el delito (aun vigente en el código penal cubano) de "rebelión por medios pacíficos". ¿Qué hice? Básicamente, escribí el manuscrito de un libro que titulé "Temas Cubanos o Dialéctica Recreativa" y que parece ser que al gobierno no le pareció muy entretenido que digamos. El manuscrito lo discutí con varios colegas físicos…y eso fue suficiente para que el gobierno cubano nos metiera a todos en la cárcel.

Boniato prison. The arrow point to where I was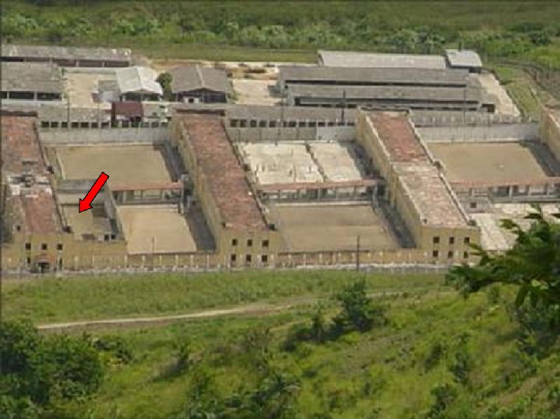 Prision de Boniato. La flecha indica donde estuve

En la cárcel, conviví con criminales comunes (el gobierno cubano dice que en Cuba no hay presos políticos), pasé hambre, mucha hambre. Lo que no impidió que para protestar por la injusticia cometida participara en dos huelgas de hambre: ¡llegué a estar hasta tres semanas tomando sólo agua! Como castigo por la osadía de protestar, fui trasladado a una cárcel peor, lejos de la familia, y donde pasé un año completo en una celda de 2 X 3 metros cuadrados, tres hombres apiñados ahí, sin salir de la celda absolutamente para nada, excepto para tomar una hora de sol cada dos días. Pero a pesar de todo tuve suerte. "Sólo" pasé encarcelado 4 de los 13 años a que fui condenado gracias a que la Academia de Ciencias de USA, Amnistía Internacional, y otras organizaciones y personas finalmente lograron convencer a Fidel Castro de que, en realidad, mantenerme en la cárcel podía no ser una idea tan buena.


Is it true that you were imprisoned for 4 years?
Yes, it is true. In 1992, I was condemned to pass the next 13 years in prison. My fault (the Cuban government said) was to violate the Cuban penal code, which even today contains the delinquent figure of "rebellion using pacific means." What did I do? Basically, I wrote the manuscript of a book titled "Cuban Topics and Recreational Dialectic," which looks like was not well appreciated by the government. I discussed the manuscript with some physicist colleagues… and this was enough for the Cuban government to put all us in jail.

Photocopy of original document emited by AI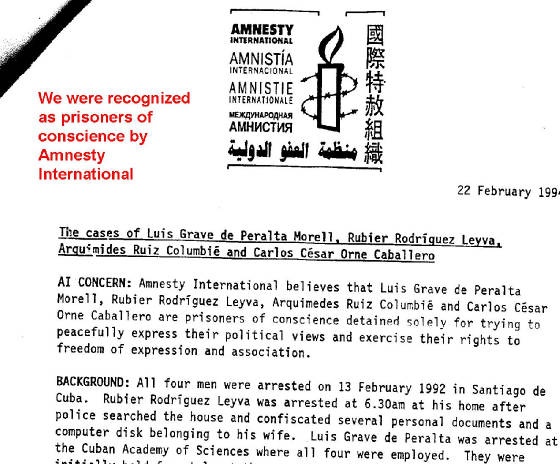 Fotocopia del documento original emitido por AI

In jail, I lived in the same cell with common criminals (the Cuban government says that there are not political prisoners in Cuba). I was hungry, very hungry all the time. However, I participated in two hunger strikes in protest of our unjust situation. I was up to 3 weeks without food, just drinking water! For this reason, I was punished and translated to a worst prison. I expended a complete year in a cell of 2X3 square meters with two other prisoners. We never leaved the cell for any reason, except for one hour each two days for walking in the prison yard. However, I was lucky. I did not remain imprisoned for 13 years. I was "only" four years in prison because the USA National Academy of Sciences, Amnesty International, and other organizations and persons found the way to persuade Fidel Castro that may be, after all, maintaining me in jail was not such a good idea.